Very Accommodating
Harold and Mary, Karamu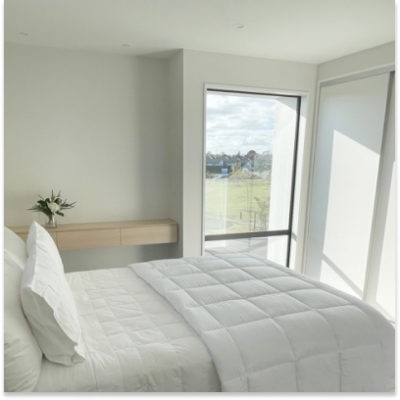 After viewing a lot of other plans and visiting new builds we were always drawn back to this plan because it was the only plan that provided a spacious bedroom downstairs with a bathroom and two bedrooms upstairs,  both with ensuites.
Very generous sized bedrooms with good wardrobe space and aesthetically nicely placed windows.
Staircase is spacious and light with wide steps making for an attractive addition sometimes definitely overlooked in other  builds.
Open plan area downstairs with (kitchen dining and lounge area) works extremely well, coupled with well placed and aesthetic windows letting in a lot of light.  Good quality appliances were installed in a well coordinated and streamlined kitchen.
We found the whole process with Greenland Homes very accommodating, allowing us to have input in areas that were important to us.
It has always surprised us (and friends visiting) that with the square metres of land we were allotted for our townhouse we ended up with such  a well thought out plan and quality built home.
More Testimonials